Community
In addition to providing quality legal services to clients and financial support to various charitable causes, Moore & Van Allen is committed to charitable, bar, civic and pro bono service. We believe the legal community is uniquely poised to serve the underprivileged. Our attorneys and staff feel compelled to uphold our Firm founders' tradition and legacy of service and corporate social responsibility. We are thrilled to have the opportunity to share ideas and collaborate with our community partners, as we believe such partnership will cultivate the greatest possible impact.

Our philosophy of inclusiveness is reflected in our extensive and diverse civic leadership and volunteerism. MVA attorneys and staff contribute financially, serve on boards, and work for more than 300 organizations across the Carolinas. Furthermore, our attorneys participate and serve in leadership, governance, and educational positions with the American Bar Association and state bar groups, as well as in other professional and legal organizations, helping to advance legal ethics, knowledge, and professionalism.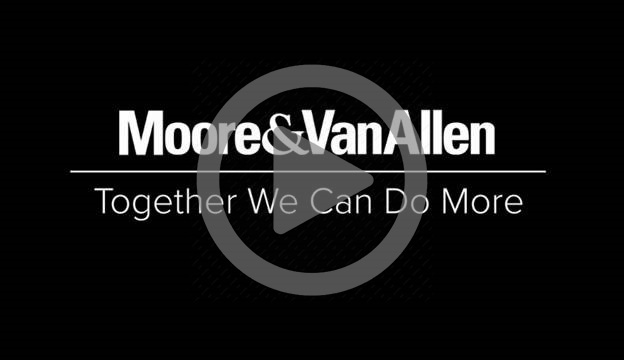 MVA's Public Service Committee, established in 2001, leads the Firm's public service and pro bono efforts by identifying, coordinating, and facilitating opportunities for MVA attorneys and staff. To better focus its efforts, the committee developed a series of internal public service and pro bono projects to maximize case intake and volunteer engagement. Each project is managed by a volunteer project leader who coordinates efforts with the Firm's community partner organizations.

To learn more about the Diversity efforts at Moore & Van Allen, contact Public Service Committee Co-chairs Ed O'Keefe and Kimberly Zirkle, or Stephanie Gryder, Manager of Diversity and Community Initiatives.



MVA Public Service Committee Members:

Sally Hentz
Jon Littlepage
Christina Quinn

Tracie Solarte

See below for a listing of the Firm's pro bono and public service programs hosted by the MVA Public Service Committee.
MVA PRO BONO Programs
Domestic Violence Pro Bono Project - Contact: Rachael Coe

The Domestic Violence project works in conjunction with Safe Alliance's Legal Representation Project to provide pro bono services to families affected by domestic violence. Volunteer attorneys work with clients to secure a domestic violence protective order while empowering the client to advocate for his/her rights and safety.
Habitat for Humanity Pro Bono Partnership - Contact: Luis Lluberas
MVA continues to partner with Habitat for Humanity by providing pro bono legal advice in connection with the resolution of delinquent loans. The project has significantly reduced the amount of non-performing mortgages in Habitat's loan portfolio and, in turn, has provided affordable homes for families seeking permanent housing.

Housing Rights Pro Bono Project - Contact: Nader Raja
The Housing Rights Pro Bono Project, in partnership with Legal Aid of North Carolina, provides in-need tenants in the Charlotte community with pro bono legal services to avoid homelessness and secure safe and stable housing. Through the assistance of MVA volunteer attorneys, families who are suffering from unsafe, unhealthy, and deplorable living conditions often receive required repairs and financial compensation from their landlords.

Human Trafficking Pro Bono Project Contact - Sarah Byrne, Chris Thompson & Sally Hentz
Through partnerships with service-providers and law enforcement, MVA offers victims of human trafficking comprehensive legal services. Areas of service for the Project include victim-witness advocacy, expunction analysis, and other civil law matters including immigration and name change petitions. In addition to providing direct legal representation, Project leaders are often invited to educate governmental, academic and community organizations about the work and ways to engage.

International Refugee Pro Bono Project - Contact: Anastasia Fanning
Through a partnership with the International Refugee Assistance Project (IRAP) MVA volunteer attorneys help to develop and enforce a set of legal and human rights for refugees and displaced persons. Mobilizing direct legal aid and systemic policy advocacy, IRAP serves the world's most persecuted individuals and empowers the next generation of human rights leaders.

Pro Bono Wills Project - Contact: Lauren Biek
The MVA Pro Bono Wills Project is a partnership with Charlotte Center for Legal Advocacy (CCLA) that assists elderly residents of Mecklenburg County with estate planning services. CCLA's outreach to the in-need senior citizen population enables MVA attorneys to forge meaningful relationships with well-deserving clients seeking comfort with respect to their personal affairs.

Pro Se Guardianship Program - Contact: Tracie Solarte
The MVA Pro Se Guardianship Program helps families secure uncontested guardianship arrangements for children unable to make sound decisions for themselves upon turning 18 years of age. The program helps guide families through the guardianship process so that they can prepare and file documents necessary to petition the court.

Pro Se Litigant Project - Contact: Kimberly Zirkle
MVA attorneys partner with Mecklenburg County's Judicial Pro Se Project's Self-Serve Center to provide legal help to members of the low income community representing themselves in divorce and custody matters. Clients served cannot afford to retain counsel for family law affairs and receive guidance on how to navigate the court system as a pro se litigant.

Prisoner Rights Project - Contact: Josh Lanning & Jennifer Braccia
The MVA Prisoner Rights Project provides pro bono attorneys to represent plaintiffs at trial in Federal civil lawsuits. Clients served through this Project are currently incarcerated and have filed a civil suit under 42 United States Code 1983 challenging the conditions of their confinement. MVA volunteer attorneys represent the client in Federal court during the trial.

MVA PUBLIC SERVICE Programs
Box Tops Rewards Program - Contact: Tracie Solarte
The Box Tops for Education program provides Devonshire Elementary School with financial support by collecting Box Top tabs which are redeemable for both cash and prizes benefitting both students and faculty at Devonshire Elementary School. Box Tops are donated and entered into the online Box Tops system by a team of MVA volunteers who help coordinate fund disbursement to the school.

Devonshire Reading Program - Contact: Lesley Lewis
The MVA Devonshire Reading Program supplies volunteers to read to Devonshire Elementary School's third grade students on a weekly basis throughout the school-year. The program launches with a grade-wide pizza party and concludes with a field trip to Lazy 5 Ranch.

Devonshire Backpack Program - Contact: Lesley Lewis
The Devonshire Backpack Program provides food-insecure students at Devonshire Elementary School with backpacks full of nutritious, child-friendly food when resources such as school lunches and after-school meals/ snacks, are not available to children during afterschool hours. This program is funded through the generosity of MVA employees through the Firm's annual employee giving campaign.

Safe Alliance Domestic Violence Shelter - Contact: Lynn Howell Davis
In addition to providing pro bono legal services to Safe Alliance, MVA employees also provide hands-on assistance to families in need at the organization's domestic violence shelter. From food preparation to child care, the shelter seeks assistance from hundreds of volunteers to maintain a safe and stable home for its clients. MVA visits the shelter quarterly to plan, prepare, and serve lunch to current residents.

Urban Promise - Recyclicious: Crafting with RePurpose - Contact: JoAnn Lett and Darnise Starr
Recyclicious is an 8-week after-school arts curriculum in partnership with Urban Promise which encourages students to tap into their creativity by using resources right at their fingertips. Launched in January 2017 and led by JoAnn Lett and Darnise Starr, the program utilizes recycled products to make innovative art pieces with participating elementary-school students. Volunteers have an opportunity to design and teach various crafts, work alongside teenage mentors and build connections with attending school-aged students.
COMMUNITY AWARDS & NOTEWORTHY RECOGNITION
Moore & Van Allen received the 2019 Commitment to Justice Award for the firm's pro bono contributions to the Safe Alliance Legal Representation Program.
27 Moore & Van Allen attorneys completing 50 or more hours of pro bono legal services in 2018 were named members of the North Carolina Pro Bono Honor Society.
Charlotte Litigation Member Cabell Clay was recognized as an American Bar Association Young Lawyers Division (ABA YLD) Star of the Year at the 2018 ABA YLD Annual Meeting for her contributions over the 2017-2018 bar year as the Division's Administrative Director.
Charlotte Litigation Member George Hanna was honored during the North Carolina State Bar's Annual Meeting at the 50-Year Lawyers Luncheon for his outstanding service and contribution to the Bar.
Charlotte Litigation Member Nader Raja was named co-champion of the Charlotte Triage eviction project. The collaborative initiative works with private legal organizations to support the needs of Legal Aid of North Carolina clients.
Charlotte Conflicts Counsel Sarah Byrne served as a featured speaker at the North Carolina Human Trafficking Commission's Regional Symposium to discuss victim-defendant duality and post-conviction relief.
Charlotte Litigation Member Frank Schall was appointed to serve on the Charlotte Mecklenburg Human Trafficking Task Force.
For the sixth year in a row, Moore & Van Allen earned the title of Large Firm Division winner for the 2018 Legal Feeding Frenzy raising over 70,000 pounds of food for families across North Carolina.
Moore & Van Allen was named the 2017 Outstanding Philanthropic Organization by the Association of Fundraising Professionals for its efforts to enhance and inspire philanthropic giving within the Charlotte community.
Second Harvest Food Bank of Metrolina (SHFBM) awarded MVA with a 2017 Lifetime Achievement Award for its long-standing commitment to SHFBM – including the backpack program at Devonshire Elementary School, sponsorship of special SHRBM events, and the firm's donation of in-kind legal services to the organization.